Welcome!
Tahiti Air Service and Conciergerie (TASC) is the premiere FBO in the mid Pacific. You will find an outstanding array of services ranging from FBO, AMO, Charter, and Concierge assistance.
We are located in Tahiti,the hub of French Polynesia and the gateway to our many Islands including Bora Bora, Mo'orea, and more than 20 small airports on the various Islands that make up our territory.
Our FBO services will probably surprise you by the quality and dedication of our experienced staff and state of the art ground equipment, luxurious passenger lounge, on site customs and immigration. At TASC we are your family and friends and will do everything possible to make your stay in French Polynesia a safe, comfortable and wonderful experience. Of course such a successful FBO is the product of our people, the friendly smile and dedication of our Polynesian, French, and Canadian staff is your assurance of a safe and comfortable journey.
FBO
World Class Handling...
TASC FBO is a comprehensive full service facility that includes all amenities. Executive passenger lounge, on site customs and immigration, catering room, snooze room, planning room, espresso bar, hangar and maintenance services are just a quick glimpse of our FBO services. On the ramp we have the most modern ground support equipment featuring CARB compliant GPU and a full suite of Aerospecialties ground equipment. View more...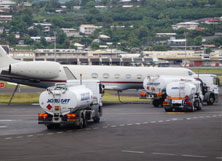 AMO
EASA Part 145...
TASC's wholly owned maintenance company, Polynésie Perles, is a part 145 EASA AMO. TASC has managed aircraft repair situations from simple line service tasks to full engine, stabiliser and winglet removal. We have a number of jacks and tooling for most of the jets that transit in Tahiti, including Bombardier, Gulfstream and Dassault products as well as limited capabilities on Citation and Embraer aircraft. Of course we need the assistance of your maintenance organisation to provide logistical support for your aircraft. View more...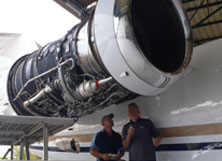 Location
An ideal tech-stop...
Located in French Polynesia in the middle of the Pacific Ocean; French Polynesia is a chain of more than 130 islands. Tahiti is the ideal tech-stop location as a transit point from Asia/Australia to US/South American destinations. Our rapid tech-stop ground service allows you to fuel and get services in a 1 hour quick turnaround window. Tahiti is approximately 8.5 hours flight time from LAX. Bora Bora is a 40 minute flight from NTAA-Tahiti FAA'A International Airport. View more...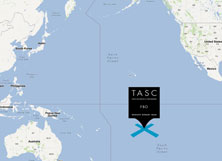 Located in Tahiti, Robert Wan is the most respected black pearl producer in the world. Visit the Robert Wan website.